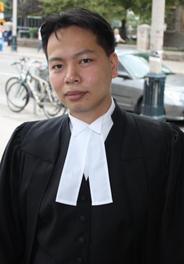 The Virtual Law Office of
Vinh T. Tran, Esq.
Barrister & Solicitor, Notary Public,
A Commissioner for Taking Affidavits Etc.
Toronto Mobile Lawyer
188-639 Dupont Street
Toronto, Ontario M6G 1Z4
APPOINTMENT REQUIRED
GUARANTEED ERROR-FREE COVERAGE
Text: 647-209-7389
Email:
vinhtranlaw@hotmail.com
---
By Vinh T. Tran, a Practising Lawyer.
Welcome to my website. My name is Vinh T. Tran, I am a
licensed, insured, and practising lawyer
. I am also a registered notary public and an officer of the court to commission oaths/affidavits/statutory declarations in and for the Courts and the Province of Ontario. I am a registered member in good standing with the
Law Society of Upper Canada
, the
Foreign Affairs and International Trade Canada,
and the
Official Documents Services Branch
of the Ontario Minis
try of Government Services
. You can take solace in knowing that I will properly notarize and commission your document in accordance to the laws and standards for use in Canada and foreign jurisdictions. I take pride in the fact that my legal authority and identity can easily be verified by different agencies, including but not limited to: financial institutions, law firms, hospitals, universities, embassies and consulate offices in Canada and around the world. All reputable lawyers, notaries public, and commissioners of oaths in Toronto, Ontario, Canada, never refuse to disclose their full names, credentials, contact information, and fees.
Your notarized document is only
VALID
if it is done by a verifiable and credible registered legal professional. More importantly, your document may contain sensitive and private information, can you really trust your document with an anonymous self-proclaimed lawyer and notary public without a face, name or credential verification? Before you contact my office, I encourage you to verify my name (Vinh The Tran) and credentials through the
Law Society of Upper Canada's directory
. If the person refuses to disclose his or her name and you cannot verify such an individual through the directory, it is a
HUGE RED FLAG
that you may be dealing with an unqualified person or a fraudster for legal and notarization services. There is no justifiable reason for a legal professional to be secretive about his or her identity and credentials.
I provide personal
house calls
and
mobile legal services
to Torontonians and those living in the Greater Toronto Area, including but not limited to:
The City of Toronto
,
Scarborough
,
Newmarket
,
Markham
,
Brampton
,
Burlington
,
Richmond Hill
,
North York
,
Etobicoke
,
Mississauga
,
Vaughan, King City
,
Pickering/Ajax, Whitby
,
Woodbridge
,
Upper Canada
, and
Oakville
. As mentioned, I am a
practising lawyer
, notarization and commissioning documents is one of the many areas of law that I offer. As such, I am often extremely busy and am unable to answer phone calls. I seek your understanding and ask that you only contact my office via texting
647-209-7389
or by email to
vinhtranlaw@hotmail.com
for inquiries and appointments. For legal services, I charge by the hourly rate of $240. If you insist on speaking with me personally through the phone, I will insist on charging you $4 per minute and always rounding to a 10-minute interval. You will be expected to provide your credit card information before we engage in a telephone conversation. In the alternative, and totally free of charge, please use text 647-209-7389 or email
vinhtranlaw@hotmail.com
for any legal issues or inquiries or to set up an appointment to meet with me. Please review my website first before asking me questions about
fees
,
notarization, commissioning oaths, authentication, legalization, superlegalization, and apostille processes and procedures
. If you are still confused about any of the processes and procedures, I am happy to answer your questions via TEXT 647-209-7389 or EMAIL
vinhtranlaw@hotmail.com
.
CANADIAN OWNED AND OPERATED
LICENSED, INSURED, AND PRACTISING LAWYER
SOLICITOR-CLIENT PRIVILEGE PROTECTED ALWAYS
NO HIDING BEHIND THE CORPORATE VEIL
COMPLETELY INDEPENDENT